web information



upyrass@blgspt





disclaimer

Best viewed with Mozilla Firefox & Internet Explorer.
Encoding; Unicode (UTF-8) Nav; top.



recent entries
YAAAAY~ I LOVE STOMPING~~! stop asking me whts sto...
i hvnt been blogging much abt wht i do daily :/ to...
TODAY IM GONNA BLOG ABT RAKION. yeah its gna be bo...
IM FEELING TONs BETTER TODAY WOOOOHOOOO! not much ...
*EDITED The earliest mention in an authentic his...
im gonna put a warning here... but i know its no u...
i woke up at 830 ( to my horror ) but my parents ...
as usual, im gonna type super fast, cos i only hav...
I suffer eternal damnation for something you did. ...
okay, im not saying goodbye to this blog - YET. i...
wishlist
COOKIE

COOKIE

COOKIE

COOKIE

Rape Derek♥♥

COOKIE

COOKIE

COOKIE

COOKIE




plugboard








jukebox





rewind

Sunday, December 10, 2006
@ 8:27 PM
SAT~

wnt for yq's bday paaaarty! okay it was my first time meeting up with stomp ppl..

wnt to hrtland mall with peisheng ( i cant put his real name here, i dont want to cause any flame in my blog ) and xiao saint to buy cake..
ps passed me my stomp tee and i chnged.. we didnt see any nice cakes in prima so we decided to go to hougang mall to buy..

we bought frm polar cakes, thn we sat mrt to vivo..
played arcade (the gun game which ch and kunzi played on thurs)
i sucked at it. lol.
thn ig ave up and xiaosaint took ovr me :D

we wnt to the pet safari ltr.. THE PETS ALL SO CUTE LAH WTF!?!?
thn we wnt to the opp shop..
all manga de..

thn ltr we wnt to meet the other ppl..
den we walked to the shuttlebus tht place..
thn peisheng and i was walking infront, the rest behind..
thn suddenly damn quiet...

we turned back..
EVERYONE STARING AT US LAH!
WTH LOL!!
i was soooo damn embarrassed!!

twhn we reached there we played freesebee..
i was sposed to be monkey twice but they say dont bully girls lol :p
got one time the freesebee fell into the water and i wnt to retrieve it..
but the guy who was 'monkey' cld easily shove me down and snatch the thingy..
but they say dont bully girls~
LOL!

walked to 7-11 to buy food.. thn whn we wnt back, we buried devil!!
hahah it was so funny lah!

den yq FINALLY came!
i cld tell money's eyes were
O_____________O!!!!

hoho. den left w peisheng cos i didnt know wht to do if he left me thr cos i didnt socialize much..
THEEND :D

♥DEREK KIM(:
about me

Bibs
8 May 92
Holy Innocents; 4 Sin
Madly in love with Bf :p
Sunday, December 10, 2006
@ 8:27 PM
SAT~

wnt for yq's bday paaaarty! okay it was my first time meeting up with stomp ppl..

wnt to hrtland mall with peisheng ( i cant put his real name here, i dont want to cause any flame in my blog ) and xiao saint to buy cake..
ps passed me my stomp tee and i chnged.. we didnt see any nice cakes in prima so we decided to go to hougang mall to buy..

we bought frm polar cakes, thn we sat mrt to vivo..
played arcade (the gun game which ch and kunzi played on thurs)
i sucked at it. lol.
thn ig ave up and xiaosaint took ovr me :D

we wnt to the pet safari ltr.. THE PETS ALL SO CUTE LAH WTF!?!?
thn we wnt to the opp shop..
all manga de..

thn ltr we wnt to meet the other ppl..
den we walked to the shuttlebus tht place..
thn peisheng and i was walking infront, the rest behind..
thn suddenly damn quiet...

we turned back..
EVERYONE STARING AT US LAH!
WTH LOL!!
i was soooo damn embarrassed!!

twhn we reached there we played freesebee..
i was sposed to be monkey twice but they say dont bully girls lol :p
got one time the freesebee fell into the water and i wnt to retrieve it..
but the guy who was 'monkey' cld easily shove me down and snatch the thingy..
but they say dont bully girls~
LOL!

walked to 7-11 to buy food.. thn whn we wnt back, we buried devil!!
hahah it was so funny lah!

den yq FINALLY came!
i cld tell money's eyes were
O_____________O!!!!

hoho. den left w peisheng cos i didnt know wht to do if he left me thr cos i didnt socialize much..
THEEND :D
♥DEREK KIM(:
pictures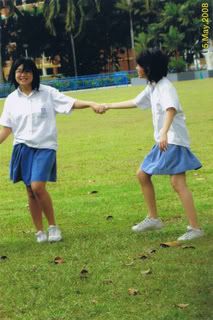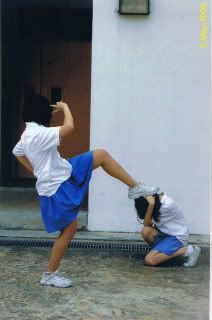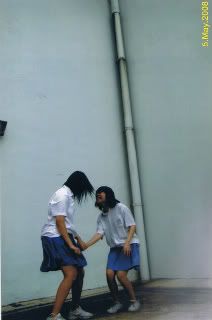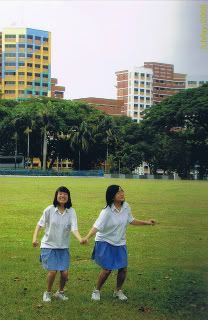 credits

designer: Ms.SockPuppet
reference: detonatedlove
image: scienceishardcore
powered by: blogspot
cursor: lovecandied

affiliates
Those Close ones
Cheryl
Diana
Darren
Derence
Grace
Kristle
Elisa
Minghui
Pearson
Samuel
Woei Jiun
Wan Ting
Zuo Ying