web information



upyrass@blgspt





disclaimer

Best viewed with Mozilla Firefox & Internet Explorer.
Encoding; Unicode (UTF-8) Nav; top.



recent entries
*EDITED. my latest photoshop designs :D...
i hate how you dont notice things arnd you. i hate...
DAY 1 we met up at hougang mall's mac. i was the ...
sat. was supposed to meet alvin and peng at houga...
finally, the day which i was waiting for came. the...
yay changed my blogskin! because i find it fun to ...
akk, you t...
*edited (don wry i added things i didnt delete any...
TODAY I SHALL BLOG ABT ZMH! HEEEHEEEHEE <- ZMH's F...
as i walked into the class for ptm, i felt like a ...
wishlist
COOKIE

COOKIE

COOKIE

COOKIE

Rape Derek♥♥

COOKIE

COOKIE

COOKIE

COOKIE




plugboard








jukebox





rewind

Friday, November 10, 2006
@ 3:02 PM
askd to do this by elisa dear :D

7 things that scares me
-losing frns?
-woooooo~ ghosts.
-slping alone at night
-NIGHTWALKS
-camp hikes -.-
-ppl scaring me? bt thts rare.
-cockroaches -.-

7 favourite music at the moment
-backstreet boys
-westlife
-simple plan
-snowpatrol ; chasing cars
-yue ding
-LET THE MUSIC HEAL YR SOUL!
-actually have a lot.. cant think now..
-????

7 people i fancy
-2 INT
-2 INT
-2 INT
-2 INT
-samuel
-leroy
-jonathan? maybe.

7 things i said most
-OMG
-WTF
-LOL
-AHHHHHHHHHHHHHHHHHH
-whr
-wht
-NOOOOOOOOOOOOOOOOOOOOOOW!

7 things i like most
-2int
-2int
-2int
-2int
-2int
-2int
-2int
-2int

7 people needed to do this survey
-ZMH! (cos he was beside me whn i did this :p)
- GLYNIS FOOOOOOOOOOOOOOOOOOOONG
- SANDY
- TJ
- WJ
- ZY
- who else got blog ar... CHERYL AW YONG!!


next quiz requested by ger-nis. ( DAH ROCK )

Can you name 11 people you can think of right off the top of your head? Don't read the questions underneath until you write the names of all 11 people.
1. GLYNIS
2. WYNNE
3. MERYL
4. TJ
5. JEMAINE
6. MARIE
7. ELISA
8. ZUOING
9. SAMUEL
10. LEROY
11. jonathan?

1. How did you meet 10?
RAKIONRAKION! :DD

2. What would you do if you had never met 6?
i'll fail all my subs, LOL

3. What would you do if 6 and 2 dated?
OOOMG!!

4. Have you ever seen 4 cry?
noope.

5. Do you think 1 is pretty?
PRETTAYE BABE! LOOOOOOOL she gna kill me whn she sees this

6. Tell me something about 11.
HE LIKES BLUE!

7. How do you know 8?
PRI SCH CLASSMATES!

8. Would you ever go on a date with Number 5?
YEAH I WNA DATE HER! xDD :p

9. What's 7's favourite colour?
i know! HELO KITTY! but wait.. hello kitty not a col -.-

10. What would you do if 2 confessed he like you?
its a girl you dumbarse. WHO CARES I LOVE HER TOO! we can les tgt ( IM JOKING! ) im straight!

11. Fact about 9.
he loves fanny!

12. Who is 6 going out with?
ME. lol jkjk no one lah -.-

13. Who is Number 5 to you?
MY DAUGHTER! CRAZY CRAZY DAUGHTER. :D

14. Would you ever live with 11?
...................................................................... more likely he doesnt wna live with me? LOL.

15. Is 2 single?
nono, she's attached to ME! :D joke. -.-

16. How much does 3 mean to you?
i'd die for her? LOL a goodgoodgoodgoodgoodgood FRIEND! how abt that. xD

17. What do you think about 1?
HOT BABE! LOLOLOL. I LOVE THIS BIATCH.

18. Whats the best thing about Number 8?
hmmmm.. she likes to wear sec1 camp tee? LOL I LIKE TO WEAR SEC2 ONE! :D

19. What do you dislike about Number 10?
he likes to scold vulgarities -.-

20. 11 people that you want them to do.
ZMH!
SHANNON
CHERYL AWYONG!
ELISA
ELEANOR SIM
ANG KEANE KEAT
LIEN WANTING (yeah i know this is a surprise, bt im just looking at my links list xP)
WINNIE
BEATRICE
LEROY
CAMILALALLALALALALALALLALALALAAAAAAAAAAAAAAAAA

♥DEREK KIM(:
about me

Bibs
8 May 92
Holy Innocents; 4 Sin
Madly in love with Bf :p
Friday, November 10, 2006
@ 3:02 PM
askd to do this by elisa dear :D

7 things that scares me
-losing frns?
-woooooo~ ghosts.
-slping alone at night
-NIGHTWALKS
-camp hikes -.-
-ppl scaring me? bt thts rare.
-cockroaches -.-

7 favourite music at the moment
-backstreet boys
-westlife
-simple plan
-snowpatrol ; chasing cars
-yue ding
-LET THE MUSIC HEAL YR SOUL!
-actually have a lot.. cant think now..
-????

7 people i fancy
-2 INT
-2 INT
-2 INT
-2 INT
-samuel
-leroy
-jonathan? maybe.

7 things i said most
-OMG
-WTF
-LOL
-AHHHHHHHHHHHHHHHHHH
-whr
-wht
-NOOOOOOOOOOOOOOOOOOOOOOW!

7 things i like most
-2int
-2int
-2int
-2int
-2int
-2int
-2int
-2int

7 people needed to do this survey
-ZMH! (cos he was beside me whn i did this :p)
- GLYNIS FOOOOOOOOOOOOOOOOOOOONG
- SANDY
- TJ
- WJ
- ZY
- who else got blog ar... CHERYL AW YONG!!


next quiz requested by ger-nis. ( DAH ROCK )

Can you name 11 people you can think of right off the top of your head? Don't read the questions underneath until you write the names of all 11 people.
1. GLYNIS
2. WYNNE
3. MERYL
4. TJ
5. JEMAINE
6. MARIE
7. ELISA
8. ZUOING
9. SAMUEL
10. LEROY
11. jonathan?

1. How did you meet 10?
RAKIONRAKION! :DD

2. What would you do if you had never met 6?
i'll fail all my subs, LOL

3. What would you do if 6 and 2 dated?
OOOMG!!

4. Have you ever seen 4 cry?
noope.

5. Do you think 1 is pretty?
PRETTAYE BABE! LOOOOOOOL she gna kill me whn she sees this

6. Tell me something about 11.
HE LIKES BLUE!

7. How do you know 8?
PRI SCH CLASSMATES!

8. Would you ever go on a date with Number 5?
YEAH I WNA DATE HER! xDD :p

9. What's 7's favourite colour?
i know! HELO KITTY! but wait.. hello kitty not a col -.-

10. What would you do if 2 confessed he like you?
its a girl you dumbarse. WHO CARES I LOVE HER TOO! we can les tgt ( IM JOKING! ) im straight!

11. Fact about 9.
he loves fanny!

12. Who is 6 going out with?
ME. lol jkjk no one lah -.-

13. Who is Number 5 to you?
MY DAUGHTER! CRAZY CRAZY DAUGHTER. :D

14. Would you ever live with 11?
...................................................................... more likely he doesnt wna live with me? LOL.

15. Is 2 single?
nono, she's attached to ME! :D joke. -.-

16. How much does 3 mean to you?
i'd die for her? LOL a goodgoodgoodgoodgoodgood FRIEND! how abt that. xD

17. What do you think about 1?
HOT BABE! LOLOLOL. I LOVE THIS BIATCH.

18. Whats the best thing about Number 8?
hmmmm.. she likes to wear sec1 camp tee? LOL I LIKE TO WEAR SEC2 ONE! :D

19. What do you dislike about Number 10?
he likes to scold vulgarities -.-

20. 11 people that you want them to do.
ZMH!
SHANNON
CHERYL AWYONG!
ELISA
ELEANOR SIM
ANG KEANE KEAT
LIEN WANTING (yeah i know this is a surprise, bt im just looking at my links list xP)
WINNIE
BEATRICE
LEROY
CAMILALALLALALALALALALLALALALAAAAAAAAAAAAAAAAA
♥DEREK KIM(:
pictures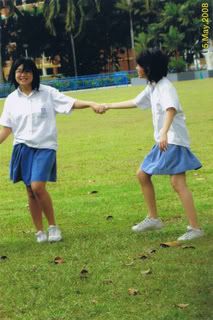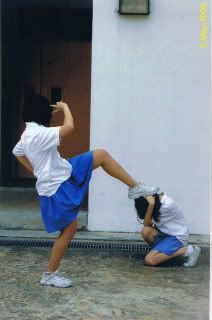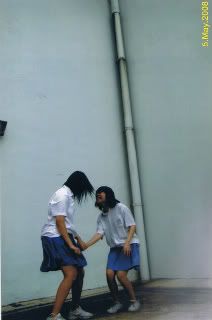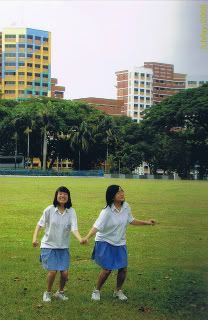 credits

designer: Ms.SockPuppet
reference: detonatedlove
image: scienceishardcore
powered by: blogspot
cursor: lovecandied

affiliates
Those Close ones
Cheryl
Diana
Darren
Derence
Grace
Kristle
Elisa
Minghui
Pearson
Samuel
Woei Jiun
Wan Ting
Zuo Ying