web information



upyrass@blgspt





disclaimer

Best viewed with Mozilla Firefox & Internet Explorer.
Encoding; Unicode (UTF-8) Nav; top.



recent entries
i sat, stunned, and looked at the message from joh...
THURSDAY. we got back hm ec first, and i was blood...
DAMNIT! seems like everyone wnt to vivo city. :/ i...
CHI LISTENING WAS SOOOOOOOOOOOOOOOOOO EASY BUT I F...
so, demanding eh? well, then i think i'll just shu...
ytd's maths2 was KILLER. i still thought it was go...
YES, FOUR EXAMS, BYEBYE! finally! -.- but lit and ...
i was supposed to study with johnathan after my mu...
went ljs with wyn darlink, yihan, marie, jmn, tj, ...
youtwnt to delifrance with wynne, meryl and tj. as...
wishlist
COOKIE

COOKIE

COOKIE

COOKIE

Rape Derek♥♥

COOKIE

COOKIE

COOKIE

COOKIE




plugboard








jukebox





rewind

Sunday, October 15, 2006
@ 9:43 PM
VIVOOOOOOOOOOOOOOOOOOOOOOOOOO!
YESYESYES, i wnt there with sandy and glynis first. it looked kinda small but its big lah. BUT THERE ALL BRANDED THINGS! -.= anywy, we wnt to toys r us first, we spent SOOOOOOO long inside! esp at the kiddie toy section, you know those computierized stuffs. den we make the thing repeat and repeat, so damn funny! lie.. apple..apple..app...ap...ap hahah!
anywy while waiting for shannon's arrival, we headed to the last lvl, curious to see whats outside... den we were like WHOA! den we saw lil kids playing water! whn we were abt to step in, shannon calld and said he reached! aww man! so we had to pick him up... den whn he came we played! wheee. so fun can! xD hahah took lots of pics. although there were A LOT of ppl staring at us.. oh whatever. we rested at the BIG open air place.. forgot whats it called..

thn we headed to earle swensons! yumyum. we had a tough time deciding, cause most of it isnt in our budget. in the end we had 2 topless 5 and we kept snatching! the most popular flavour - CHOCOLATE! we ordered all diff kinds of choco.. lol! hahah, we also drew a 'masterpiece' update it another day, tgt with all the pics! wheee, i certainly had fun! ((:

♥DEREK KIM(:
about me

Bibs
8 May 92
Holy Innocents; 4 Sin
Madly in love with Bf :p
Sunday, October 15, 2006
@ 9:43 PM
VIVOOOOOOOOOOOOOOOOOOOOOOOOOO!
YESYESYES, i wnt there with sandy and glynis first. it looked kinda small but its big lah. BUT THERE ALL BRANDED THINGS! -.= anywy, we wnt to toys r us first, we spent SOOOOOOO long inside! esp at the kiddie toy section, you know those computierized stuffs. den we make the thing repeat and repeat, so damn funny! lie.. apple..apple..app...ap...ap hahah!
anywy while waiting for shannon's arrival, we headed to the last lvl, curious to see whats outside... den we were like WHOA! den we saw lil kids playing water! whn we were abt to step in, shannon calld and said he reached! aww man! so we had to pick him up... den whn he came we played! wheee. so fun can! xD hahah took lots of pics. although there were A LOT of ppl staring at us.. oh whatever. we rested at the BIG open air place.. forgot whats it called..

thn we headed to earle swensons! yumyum. we had a tough time deciding, cause most of it isnt in our budget. in the end we had 2 topless 5 and we kept snatching! the most popular flavour - CHOCOLATE! we ordered all diff kinds of choco.. lol! hahah, we also drew a 'masterpiece' update it another day, tgt with all the pics! wheee, i certainly had fun! ((:
♥DEREK KIM(:
pictures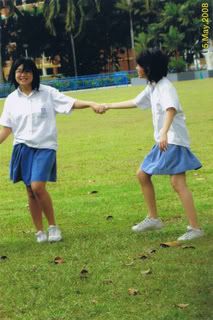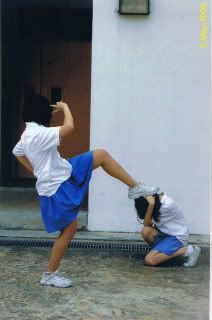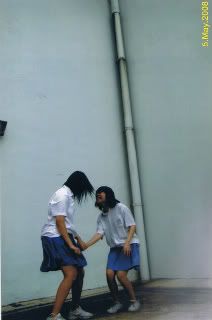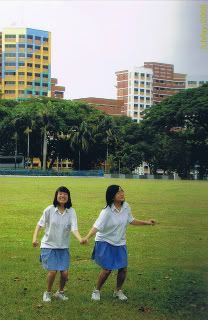 credits

designer: Ms.SockPuppet
reference: detonatedlove
image: scienceishardcore
powered by: blogspot
cursor: lovecandied

affiliates
Those Close ones
Cheryl
Diana
Darren
Derence
Grace
Kristle
Elisa
Minghui
Pearson
Samuel
Woei Jiun
Wan Ting
Zuo Ying